---
December is finally here. Therefore, the joy of the Holidays is starting to fill everyone. Most people like to spend this time of the year visiting family and friends. As such, it's likely that you have visitors this month. However, does your home look ready?
Maybe the idea of prepping your home for the Holidays just slipped during the past few months. However, making your home look amazing goes beyond getting a Christmas tree. So, if the place doesn't look ready, you can always start by doing some house cleaning.
But then, where should you start?
Quick house cleaning tips for Christmas
Inspect the house
What is out of sight is usually out of mind. Therefore, go all over your home looking for any unsightly spots. You can start by the public areas such as the living room or any guest rooms. In fact, you'll be surprised at how many things you can clean.
For example, you can get rid of any dirt on the grouts or clean the couch with a special foam.
Moreover, if you're planning on hosting a big dinner, make sure to take care of all the places where you put your food. There are many places where your food gets dirty. We'll just name a few things you can do:
Dust and vacuum your storage room
Wipe the kitchen cabinets inside out
Deep-clean the refrigerator and the fridge
In the end, it's all about not leaving any of these house cleaning chores to the last moment.
Make yourself a schedule
Effective house cleaning entails setting up a plan. First of all, there are many chores you can do with your family before the Holidays. For example, check the bedrooms – especially children's.


Usually, bedrooms are such a mess. It's up to you whether the clutter belongs to the trash, a charity, or the next garage sale.
Any of these tasks won't take a lot of time, so you can even make your kids participate.
On the other hand, other chores need a professional hand. You can call an expert house cleaning service to clean doors and windows properly. Also, your carpet needs attention, so don't forget about it.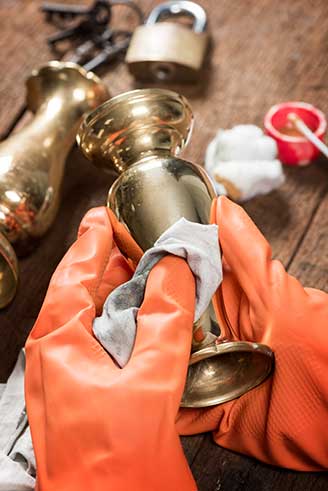 Simply put, try to get rid of imperfections, stains, and allergens as much as you can.
Mind the details
Last but not least, there are certain small things that you just can't overlook. For a truly perfect home, make sure to take care of these details. Many people can notice unpolished metal décor or dusty frames.
Moreover, if you're reusing your old artificial Christmas tree, make sure it doesn't throw dust every time you touch it.
Finally, remember that many unclean spots that are small, yet hard to clean. So, schedule professional deep cleaning to get rid of them all.
Here at Nidias Cleaning Services, we can help you prepare your place for the Holidays. Make sure to have a fantastic and unforgettable time with your loved ones by having a spotless home to celebrate. Get in touch with our home cleaning experts and get ready for Christmas starting today!