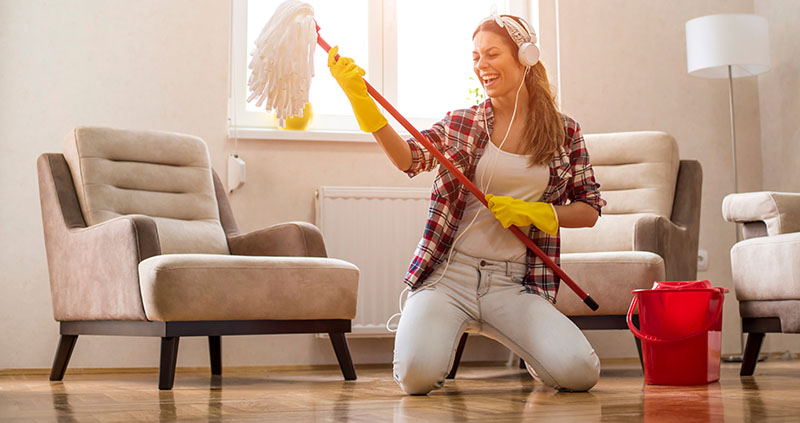 ---
Have you ever thought about the importance of a bright and comfortable living room? Let me tell you that the family room plays an essential role in the process of building good relationships with your family members and friends. So, it would be a good idea to tell you what to do to keep it clean. We created this article just for you. Get the most out of our checklist to clean your living room.
The living room is the place in which we can spend time with your relatives but, it is also where you gather with your guests and neighbors. In other words, it is not only one of the most trafficked rooms in the house but also an area that reflects your lifestyle and habits.
Do You Know How to Keep Your Living Room Clean?
Nidias Cleaning Services has experience in cleaning living rooms. And we want to share with you some tips so that you can showcase your living room in its cleanest and most beautiful way.
First of all, you will need the following items to start the cleanup:
Glass cleaner
A long-handled duster
Plastic bags
Microfiber clothes
A can of furniture polish
A vacuum with upholstery, dusting and crevice attachments
A clean broom
Plastic bags
If you already have them awesome. But if you need to buy some materials or equipment, go ahead and do it. In the end, you can never spend wrong your money on cleaning appliances.
Now it is time to follow the steps in our checklist to clean your living room. If it is necessary, you can print the list and start cleaning up your living room.
Step-By-Step Checklist to Clean Your Living Room
1. Start by Washing Curtains, Drapes and Blinds
Take down your curtains, drapes, and blinds.
Take the curtains and drapes to the laundry room if they're washable. Or to your car if you need a trip to the dry-cleaners.
After this step, the living room will be light up. Moreover, at this point, you have to wash with glass cleaner all your windows in the room.
2. Dust All Hard Surfaces (Till You Dust Every Space of the Room!)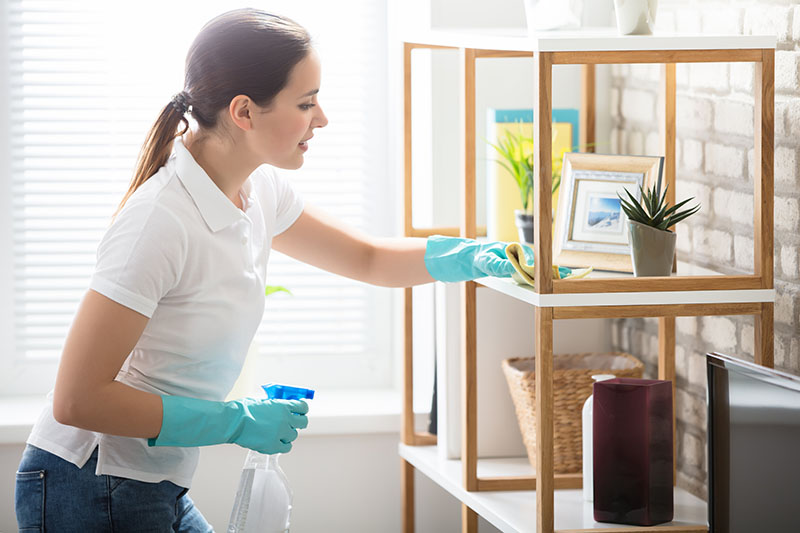 Lightly dampen a microfiber cloth for dusting. If you have a big new TV in the room, make sure to clean the screen gently and properly.
Now, work the room from left to right, top to bottom and dust the window casings, furniture, and decorations.
Then, to get rid of the dust remove all the items from the walls, clean the dusty ceiling fan, and open everything like shelves and cabinets, or drawers to clean the inside with a microfiber cloth and cleaner.
Don't go around items while you dust them. Pick them up to ensure every square inch of your living room is clean.
At the same time, make sure to pick up at the trash and put it in the bags.
We All Love Glass, So Make It Shine!
If you love to decorate your home with glass surfaces, you better make them shine!
Grab a dry microfiber cloth and your glass polish or cleaner.
Again, to keep a good flow of the areas you clean, we advise you to work the room left to right and from top to bottom.
Make sure all glass surfaces are shining of clean. Polish all glass areas like table tops, picture fronts, glass decor, fireplace doors, even interior windows.
If you feel that the microfiber cloth gets damp from glass cleaner, you better change to a dry piece of cloth to avoid streaks in the glass.
3. Clean the Carpets and Other Soft Furnishings
Start by vacuuming your soft furniture using the vacuum's upholstery attachment.
In the case of smooth surfaces such as the sofa, you can use the cleaning technique known as steam cleaning to eliminate any dust mite infections, dust, germs, crumbs, and other strange things that accumulate under seating cushions.
Don't forget to vacuum the back, sides, and front of your sofa and chairs.
Now, it's time to vacuum area rugs. You can use the dusting attachment to make sure most of the dust is removed from these carpets.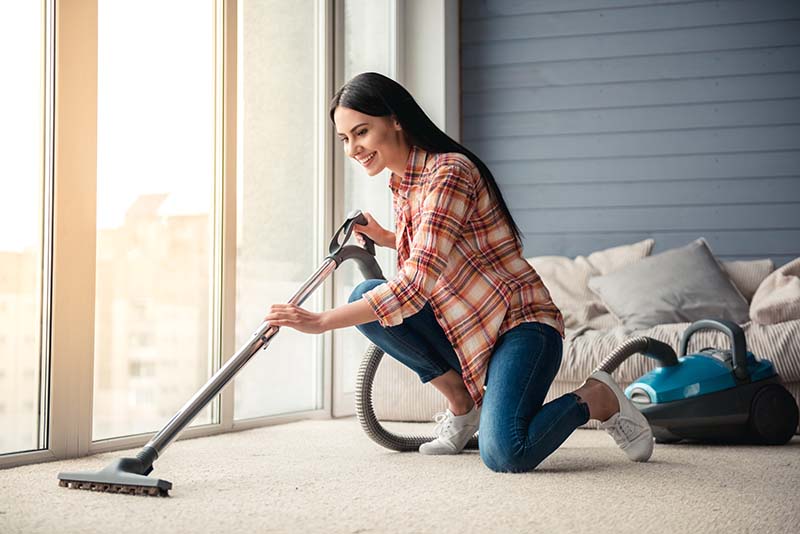 4. Polish Your Furniture and Make Everything Shine
Apply the furniture polish to a cloth and start cleaning all the hard and soft surfaces. For instance, move and clean your television, stereo, and among other electronics.
5. It's Time to Vacuum the Floor
This is one of the last things that you do in your checklist to clean your living room. So, it means, you're almost there with your chores!
Here, you can use the regular vacuum head. Move everything aside (furniture, lamps, etc.) to remove the accumulated dust beneath and around your furniture.
Hang in There. You Are Almost Done!
There are three last things to do from our checklist to clean your living room. First, throw away the trash. Next, hang up the curtains, photographs, and artworks. Finally, Nidias Cleaning Services recommend you to spray the living room with air freshener.
Cleaning up a living room is not only a routine activity; it requires an extra effort to ensure an outstanding job of maintaining a living room. If you are interested in getting some help with house cleaning services click in the link of your preference:
Nidias Cleaning Services offers house cleaning services in:
Additionally, we assure you that our workers will perform in the most trustworthy and professional way to create a cozy environment in your living room.
Call us and get prepared to enjoy a fresh and warm room.
We are experts in the cleaning up of living rooms and even your entire house.