---
Welcome to Nidias Cleaning Services. In this blog, we will share with you the best granite countertops care tips. Many people love having beautiful countertops in their kitchen or bathroom.
There are many materials on the market. However, granite countertops stand out as one of the best. Indeed, many people see it as a resilient and durable way to improve their homes.
Cleaning granite requires caution. While there are lots of useful cleaning agents out there, many of them can damage its surface. For this reason, some extra attention comes in handy to have clean granite surfaces.
Granite Countertops Care: Follow Our Guide and Clean Them the Right Way!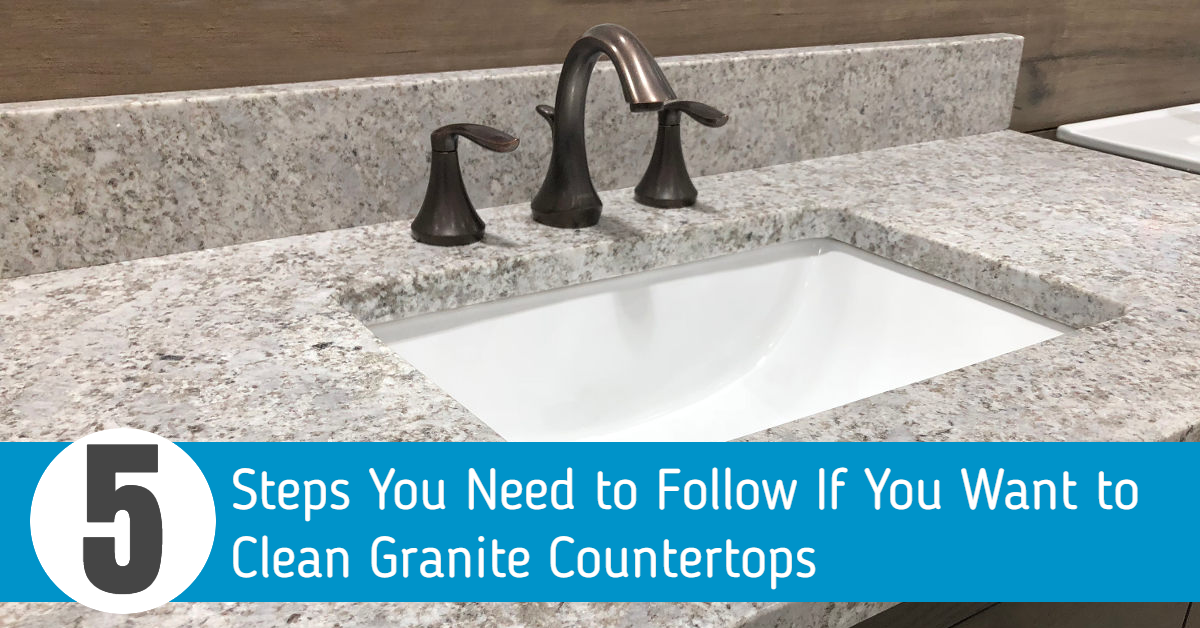 Granite countertops have become a popular choice for many homeowners as they offer a wide variety of benefits. But it is essential to learn how to clean them. If you do not know how to clean them, then we invite you to read this post to the end. Don't let time pass, or your countertops could get damaged.
Nidias Cleaning Services created this blog to show you the best granite countertop care tips:
Use warm water and dish soap for general cleaning
Wipe down the counters once a day
Mix water with rubbing alcohol to disinfect the counters
You must dry your counters after wiping up the mix
Don't use acidic granite cleaners
Granite countertops are indeed very resistant, but you are also susceptible to stains; therefore, you must clean them properly. Now that we mention the steps in this guide, we will explain them one by one. Nidias Cleaning Services is here to guide you.
Use Warm Water and Dish Soap for General Cleaning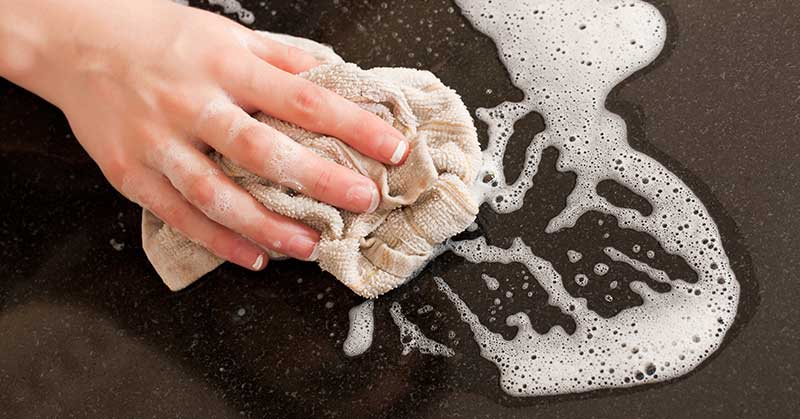 You don't need anything too sophisticated to start. In fact, something as simple and available as dish soap is a fantastic tool. Of course, dilute it with warm water before application.
Then, pick a soft sponge or a microfiber cloth, wet it, and pour some diluted dish soap in the center. However, be wise when choosing a sponge. It's easy to scratch granite countertops if you scrub them with a rough sponge.
Wipe down the Counters Once a Day
Now, granite is highly absorbent. Therefore, you should clean the countertop with the damp sponge until you see bubbles or foam. Then, make sure not to leave any standing water on the surface. Failing to do so can discolor the granite over time.
The best way to achieve a non-abrasive, yet efficient cleaning is by wiping with a small, circular, and steady motion. Be a little patient when dealing with food splatter. It'll take more time, but it's worth the effort.
Mix Water with Rubbing Alcohol to Disinfect the Counters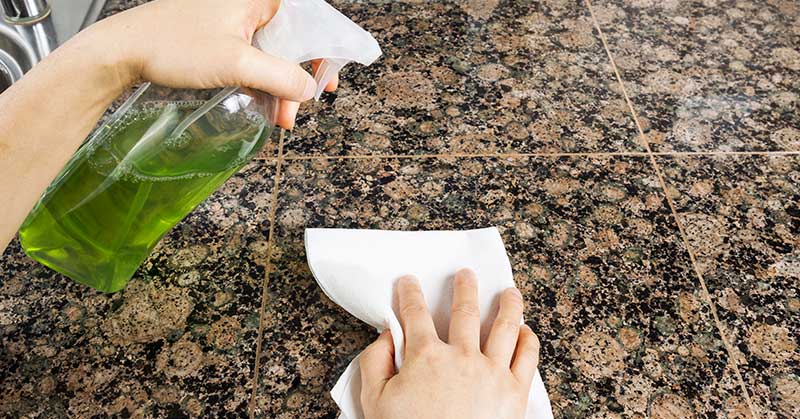 The first thing to do is pour one part of water into one part of 91 isopropyl alcohol in a spray bottle. Now put the cap on and gently shake the solution to mix it. If you want the mixture to smell good, then you should pour 120 ml of alcohol, 350 ml of warm water, and 2.5 ml of detergent. Some people also add drops of flavoring oils.
It is essential to be careful with this process because you need the mixture to be perfect. Granite countertops need to be disinfected regularly, so they are always clean. We recommend repeating this process weekly.
You must spray the countertops with the solution until you cover the entire surface. You must let this mixture sit on the granite for 3-5 minutes so that you can disinfect the area.
You Must Dry Your Counters After Wiping up the Mix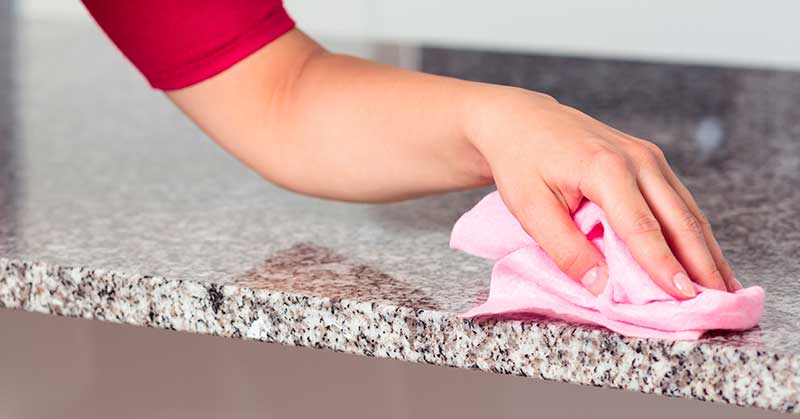 Now that you let the solution stand, you must clean it. Firstly, you must immerse a cloth in soapy water. Then you have to squeeze the cloth and carefully remove the solution. It is essential to be careful; you must clean the entire surface. We recommend washing the countertops with water to finish this process. Then you should clean the counters with a dry cloth to polish them.
This process is very important as it will help you keep your countertops clean and shiny. Each of these steps will help you clean and disinfect the granite; therefore, you just have to follow our guide.
Don't Use Acidic Granite Cleaners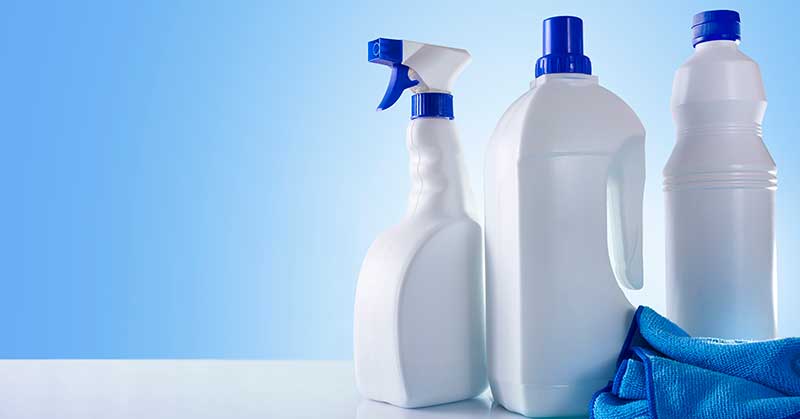 Cleaners that contain ammonia or lemon are too acidic for granite; therefore, you should not use them. We advise you to avoid any commercial disinfectant that includes any of these acids or chlorine. If you are not sure which cleaner to use, then look for one that is specific for granite.
For best results, use a white cloth to remove any residue on the surface. Do not use hard cloths or steel wool to clean your countertops, or you may damage them.
What about Stains?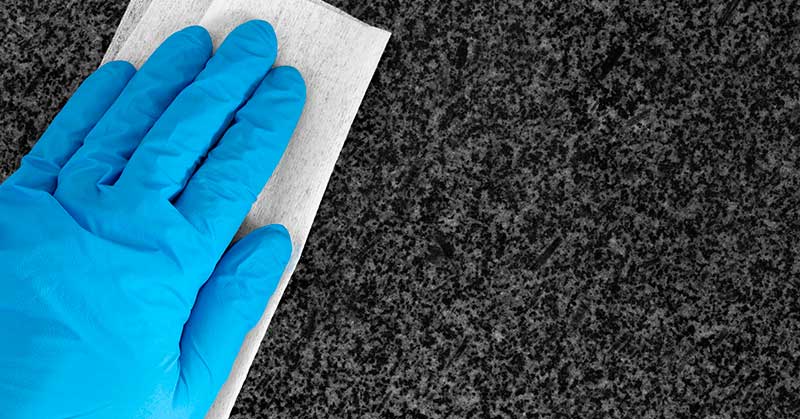 Standing water and oily substances are the worst enemies of your countertop. However, if you already see some stains, don't worry. Instead, look for something you probably already have, baking soda.
For water stains, mixing a little amount of hydrogen peroxide with the baking soda should do the job. Oil-based stains will require you to combine the baking soda with water. As you'll see, both mixtures will produce a paste that you must spread over the stain. However, it won't be a quick solution. You have to cover the area with a plastic wrap hermetically (make sure to put some tape on the edges) and let it sit for 24 to 48 hours.
Finally, when the time comes, just rinse, wipe down, and dry it off. In this way, the granite surface will have the protection and beauty it needs.
Don't hesitate and call Nidias Cleaning Services whenever you need an expert to take care of your granite countertops. Our aim to excellence and commitment to your satisfaction guarantee scratch-free, shiny, and gorgeous surfaces.