---
How well you perform a move out cleaning can be the difference between you getting your deposit money back. Therefore, here is the best move out cleaning checklist. This is a list of things that you can't forget as you prepare your home for new inhabitants.
We know that moving out is a difficult process, but you should leave everything clean. If you don't know where to start, then this blog is for you.
If you are ready to clean your house or your apartment, then let's start. We do not want you to waste your time; we know that this is a time-consuming process; therefore, we want to make everything easier for you.
Our experts created this blog to teach you how to clean your living space. We will also teach you the checklist of things you should not forget before moving out.
Things that a Move Out Cleaning Checklist Should Include

Moving is a complicated task; you must take advantage of the time you have to organize everything. You should not leave your home without leaving everything clean. Follow our move out cleaning checklist and leave everything as new.
If you are one of those people who like to put on gloves and clean your house, then you are in the right place.
Some people prefer to avoid this process and hire professional companies to clean their homes. If you are considering it, then we invite you to read our blog and learn the main benefits of hiring professional cleaning services.
First thing's first, you need to segment your cleaning checklist by living areas; bathroom, living, bedroom, and kitchen. Once that is done, start working yourself through the checklist below.


You Must Clean your Bathroom
Your bathroom is one of the essential parts of your home; therefore, you should clean it first. There are many things you should consider before cleaning a bathroom, but in this checklist, we will mention the most important ones. We will try to explain how to clean your bathroom quickly and effectively.
Follow these tips and clean your bathrooms today:
To start, get rid of soap scum. Bleach the grout too.
Clean out all of your bathroom drawers and vanity.
Sanitize the toilet, countertops, sinks, shower, and finally the floor.
Wipe the mirror down
Clean the dust surfaces, the blinds, window sills, dust cabinets, door panels, and baseboards.
You must clean and disinfect all the surfaces.
How to Clean Your Kitchen
The kitchen is the place where people prepare their food; therefore, it should always be clean. Nidias Cleaning Services has many years cleaning the best kitchens in the area; therefore, we have the experience to advise you how to clean your kitchen.
This is the checklist you should follow to clean your kitchen before leaving your home:
Clean out all cabinetry
wash the front of the cabinets
Disinfect all countertops and backsplashes
Shine the sink
Clean out the dishwasher if there is one
Remove all appliances and sweep behind them
Finally, clean the exhaust fan
Learn How to Clean Your Living Room
This checklist will help you learn how to clean every corner of your living room. The living room is one of the busiest spaces in your home; therefore, it is normal for it to get dirty. We will teach you how to clean it. Follow our tips and make your living room look like new before you move.
Dust, sweep, and mop the room
Clean the windows
Clean the doorknobs
Wash the walls and baseboards
Get stains out of the carpet (if there is one)
Dust the ceiling fixtures
Once you did all of this, your security deposit money will be in your hand in no time- guaranteed.
Our Move Out Cleaning Checklist: Follow Our Suggestions!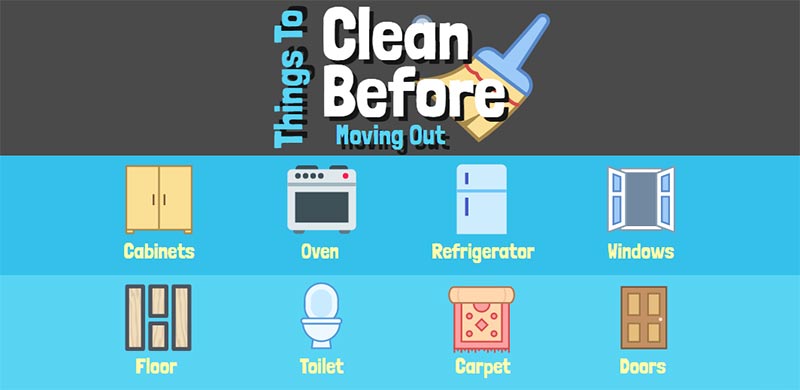 Moving out of an old property can be quite stressful; in other words, it takes a lot of time. Therefore, you need to manage your time. We want to share our knowledge with you; therefore, we invite you to read our blog. Now that you know our move out cleaning checklist, you just need to learn how to put it into practice.
Our team wants to help you get the security deposit back; therefore, we created this blog to make sure you leave your house in good condition before moving out.
These are some of the tools you will need to clean your living room:
Glass Cleaner
Microfiber Cloths
A long Handled Duster
Furniture Polish
A broom
An Adaptable Stick Vacuum
Before leaving, we recommend you to clean these items again:
Cabinets
Cabinets are one of the most important parts of any kitchen or bathroom. Be sure to empty them completely before moving in, leave everything clean. We recommend using a damp cloth to clean them.
Doors
The doors are a fundamental part of any house. Before leaving you should make sure to clean them on both sides.
Oven
Ovens usually get dirty over time; therefore, you should clean it carefully. We recommend using products based on equal parts of water and baking soda. Let it sit overnight,
Refrigerator
Firstly, you need to unplug the refrigerator. Once you have disconnected it, then you should apply a cleaner based on water and vinegar. Clean it carefully to remove dirt.
Floor
First, you must sweep your floor, and then apply a mix of 1/4 cup of vinegar, 2 gallons of water and one tablespoon of dish soap. Our advice is to dip a towel in the solution and start cleaning your floors.
Windows
You must be careful when cleaning your windows or you will leave scratches. Spray your windows with a mixture of 1/4 cup white vinegar, 2 cups of water and 1/2 tablespoon of detergent. Clean carefully with a squeegee.
Toilets
The best thing you can do is mix 1/2 cup of vinegar and a tablespoon of baking soda. Let the mixture sit for half an hour and then apply it to clean your toilets.
Carpets
The best way to remove stains from a carpet is by applying a mixture of vinegar and water. Place a damp cloth on the stain and then apply a steam iron on the rag. This process must be performed for 30 seconds.